From 1900 onwards, dovetailing with the start of the peak of his international career, Hermen Anglada began to receive some portrait commissions from wealthy Parisians, which were followed by portraits of aristocrats, countesses, duchesses and even internationally renowned actresses that he later made once he reached Mallorca. In all of them, Anglada emphasised the exclusivity and distinction of the sitters through their clothes, gestures and bearing, always based on the sensuality and stylisation of the female figure.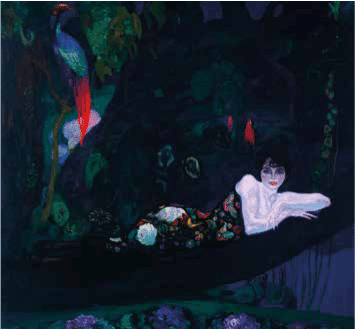 Portrait of Sonia de Klamery (Reclining)
Hermen Anglada-Camarasa
c. 1913
Oil on canvas
180 x 200 cm
Museo Nacional Centro de Arte Reina Sofía

This is one of Anglada-Camarasa's most significant works, as well as the most brilliant portrait in his entire oeuvre. Little is known about Sonia Klamery, the woman portrayed, except that she was a blond Polish aristocrat. In the magazine Semblanzas femeninas, Anglada himself claimed that she was 'beautiful, a very distinguished, intelligent young woman, and she very much liked the way I paint'. Anglada portrayed her on two occasions, reclining and standing. In this version the model appears reclining with sensual elegance, her body covered with a Manila shawl, a garment that international aristocrats had borrowed from common folk and made fashionable among the elites. She is wearing both silk stockings and high-heeled shoes and reveals a pearly white décolleté and arms. The figure is sensually reclining on a tree trunk, as if she were a panther or a snake, with an attentive gaze trained on the viewer and her lips painted red, in a paradisiacal, nocturnal setting populated by exotic plants and wildflowers. The work seems to be premonitory and reveals the end of the era of Modernism and the Decadent movement, as well as that of a lyrical, sensual Orientalist artist who left Paris in 1914 because of the Great War.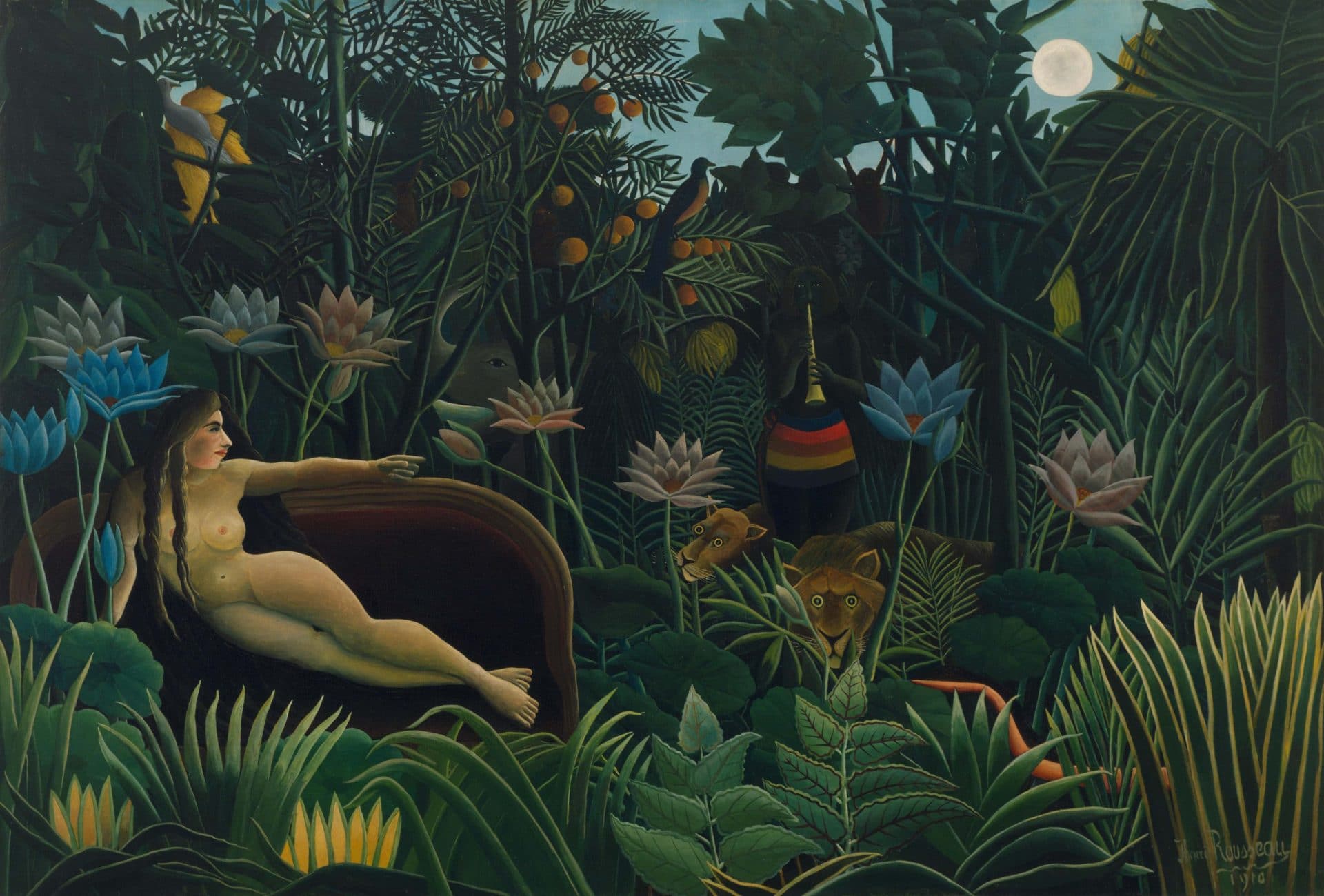 The Dream

Henri Rousseau
1910
The Museum of Modern Art, New York
Photo: Wikimedia Commons.
Fashion, elegance and
social status
Just as in the courtesan paintings, Anglada paid a great deal of attention to the clothing of the women in his portraits as symbols of elegance and elite social status. One example is the Portrait of Magda Jocelyn, which attests to the taste for classically inspired models at the time. In Venice in around 1907, Marià Fortuny's son created the Delphos gown, a simply-cut silk column-shaped tunic that imitated ancient Greek fashion, which immediately became popular among aristocratic women, who wore it in their portraits. Magda Jocelyn is depicted as a monumental hieratic goddess wearing a fitted dress reminiscent of the Delphos model, while posing with an elegant bearing and delicate gestures as synonyms of distinction.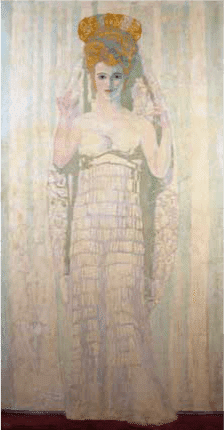 Portrait of Magda Jocelyn
Hermen Anglada-Camarasa
c. 1904
Oil on canvas
217 x 114 cm
Museu Nacional d'Art de Catalunya, donated by Beatriz Huelin, the artist's widow, 1969
Photo: Museu Nacional d'Art de Catalunya, Barcelona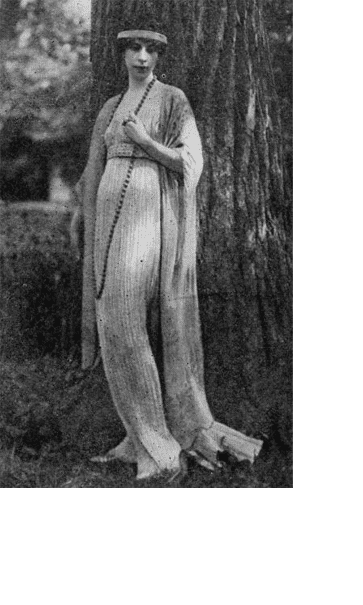 Author unknown. Mrs. Condé Nast wearing one of the dresses designed by the famous Mariano Fortuny, early twentieth century. Photo: Wikimedia Commons.
In around 1910, Anglada introduced the iconographic model of the reclining Venus and the elegant woman lying prostrate on a divan in his portraits. The sofa, a space associated with femininity and escapism, was considered these animal-like women's place of both rest and active sexuality, understood as female masturbation. In these women, Anglada emphasised eroticism from clothes that reveal the curvaceous silhouette of the female body, as well as their poses and direct, feline looks that seem to beckon the spectator, like his Parisian courtesans. Over the years, the sofa ended up morphing into a tree branch where the figure is resting, while exuding a certain primitivism and a desire to return to pre-industrial societies.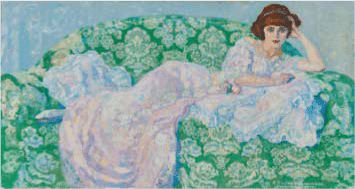 La gata rosa (The Pink Puss)
Hermen Anglada-Camarasa
1908-1910
Oil on canvas
103.70 x 190.30 cm
Private collection. Photo: © Christie's Images / Bridgeman Images

Today we see the final version of The Pink Puss; however, in an earlier version, the work was a portrait of Georgette Leroy, Anglada's student in Paris and the wife of Alberto López Buchardo. According to the sitter, the artist had painted it to show his Parisian disciples that he could make a work without the vibrant colourism in his previous pieces. After being exhibited in Buenos Aires in 1916, the painting was returned to the painter's studio, and there he replaced Georgette's face with an anonymous one, probably to give the work a more Belle Époque look. In 2006, The Pink Puss, one of the artist's most prized works, set the record for being the most expensive work of art sold at public auction in Spain, reaching 3 million euros at Christie's.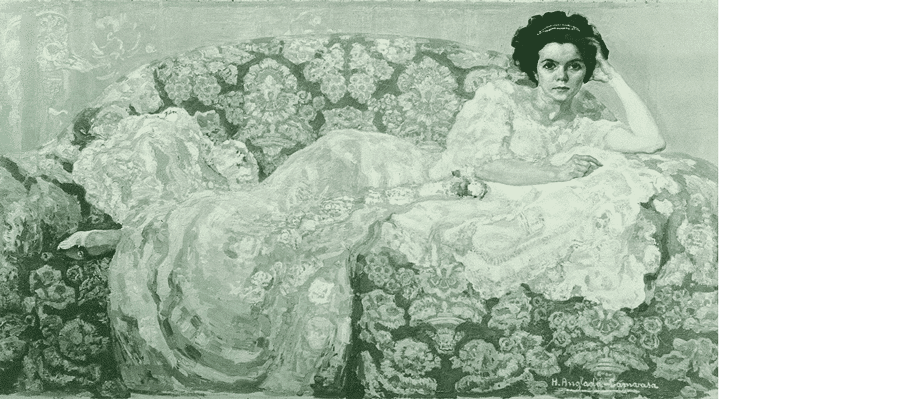 Author unknown. Photograph of the first version of The Pink Puss, between 1908 and 1911. Anglada-Camarasa family archive, Port de Pollença.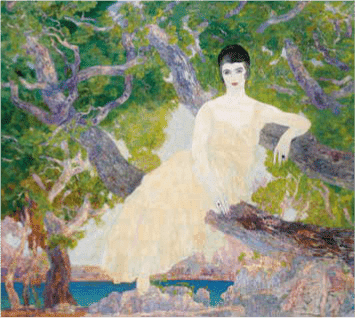 Portrait of Adelina del Carril de Güiraldes
Hermen Anglada-Camarasa
c. 1920-1922
Oil on canvas
185.5 x 201 cm
Anglada Camarasa Collection. Fundació "la Caixa"

This work is a portrait of the wife of the Argentine writer Ricardo Güiraldes, Anglada-Camarasa's close friend. Made in the early 1920s, the painting was owned by the sitter yet always remained in the painter's studio. Despite being envisioned as a portrait, the painter gave equal prominence to both the figure and the Mediterranean landscape around her. Hermen Anglada started living in Mallorca in 1914; thereafter, his paintings began to abandon nocturnal settings to instead embrace daylight, and instead of portraying women he began capture the virginal splendour of the Balearic landscape.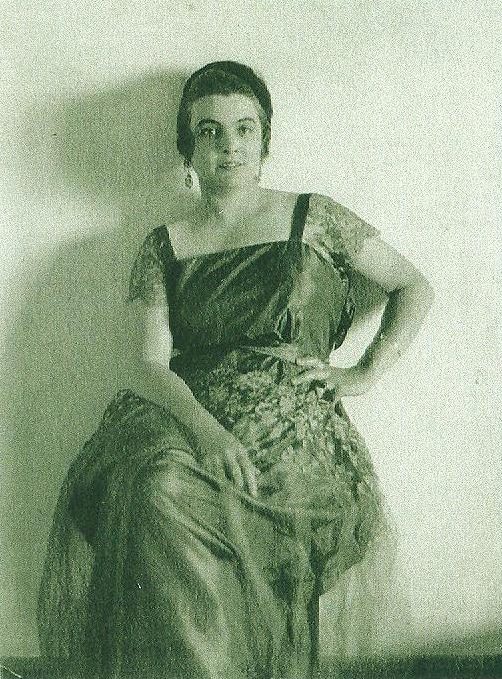 Author unknown. Photograph of Adelina del Carril de Güiraldes
c. 1920. Anglada-Camarasa family archive, Port de Pollença.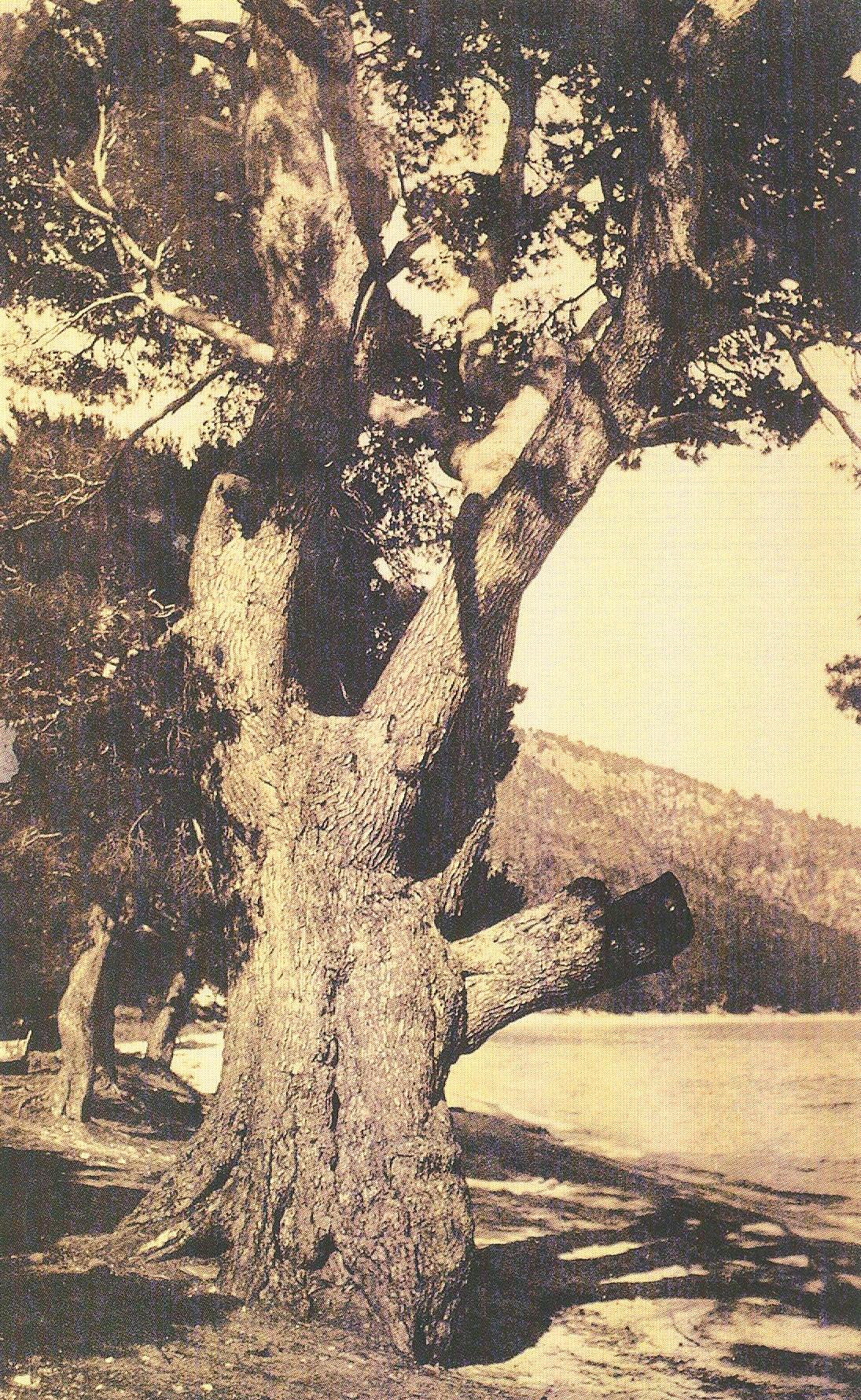 Hermen Anglada. Photograph of a pine tree from Formentor
c. 1920. Anglada-Camarasa family archive, Port de Pollença.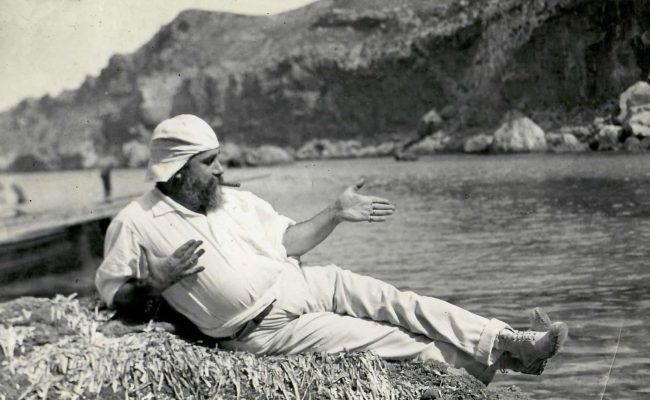 Author unknown. Anglada-Camarasa portrayed in the bay of Port de Pollença, Majorca, 1922.
Museo Gauchesco Ricardo Güiraldes, San Antonio de Areco, Argentina.