Exhibition curatorship: Joan Bosch and Francesc Miralpeix, lecturers at the University of Girona, in collaboration with the Center for the Restoration of Tangible Heritage in Catalonia and the Catalan Institute for Research in Cultural Heritage
Dates: November 22, 2019 to April 19, 2020. Extended until September 13
Opening: Friday, November 22, 2019
Venue: Area 2 of the Girona Art Museum
In 2016 the Museu d'Art de Girona experienced a traumatic incident when six Renaissance panels attributed to the Girona painter Pere Mates came up for auction. It turned out that two of the panels were identical to some others that the museum had bought six years earlier, in 2010. An exhaustive process of studying and analysing all of the panels finally showed that the earlier works were fakes.
That discovery planted the seed of the exhibition we are now presenting and which at the same time proposes an intriguing visual debate around what we have called "the art of deception".
Genuine Fakes delves into the darkest, dirtiest side of the art market.It is an opportune yet risky undertaking at a time when we are threatened by lies, camouflaged as post-truth and when simulation and falsehood look for any number of strategies to be believable.
DIEC. [Dictionary of the Catalan language of the Institute of Catalan Studies] "False"
1.1 adj. [LC] What is not true out of error or deceit.
2.1 adj. [LC] What is not real, that only has the appearance of another thing, not genuine.
2.2 adj. [LC] That takes on the appearance of something so as to deceive.
3.2 [LC] falsely adv. a) Not conforming with truth or reality, aiming to deceive.
A fake is a counterfeit artefact created or manipulated with a premeditated purpose to deceive, with fraudulent intention and a desire to get financial benefit. A fake is an object enjoying the illusion of authenticity until the day it is unmasked. It is a fraud, a toxic agent and a distorter of art, cultural heritage and historical narrative.
What do not fall into this shady category are wrongly attributed works, overdone or clumsy restorations, copies, replicas or honest imitations, which on the contrary have great didactic value and indisputable historic and cultural interest.
In any case, we have to recognise there is a positive secondary dimension to something fake: the undeniable historic value; the category of an interesting cultural object and even sometimes a fascinating one, the capacity to provoke important reflections on fundamental concepts such as authenticity, originality, genuineness and authorship and the meaning of each of them in every historical context and cultural tradition. Above all, we must recognise that we should look closely at ourselves and remember we are not infallible.
The Sabadell Art Museum had a pioneering exhibition on fakes, the inspiring "L'Art de Falsificar" (The Art of Forgery) (1997) curated by Ricard Mas. This piece "in the Bonnard style" is one of those singled out as a fake among those which make up the museum's rich pictorial collection.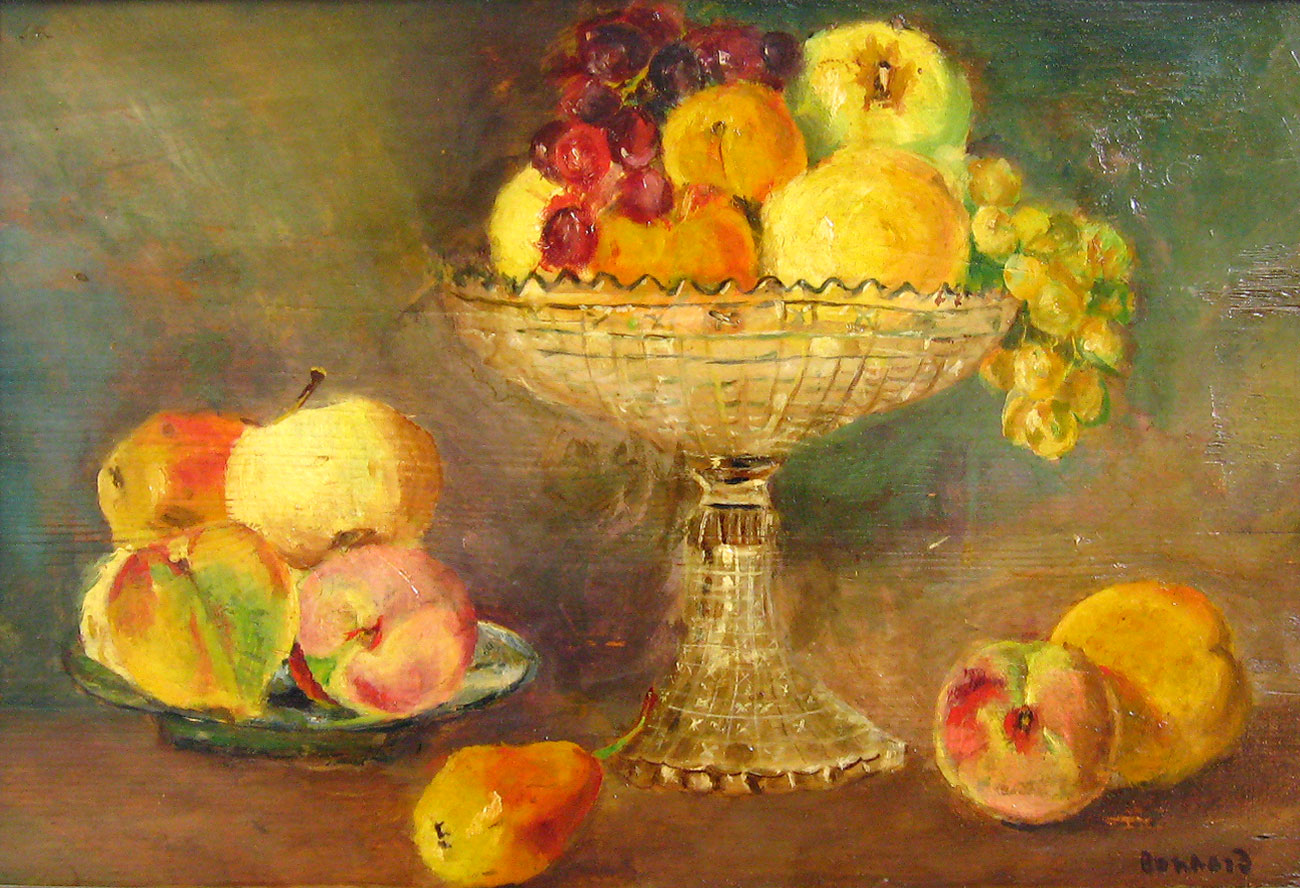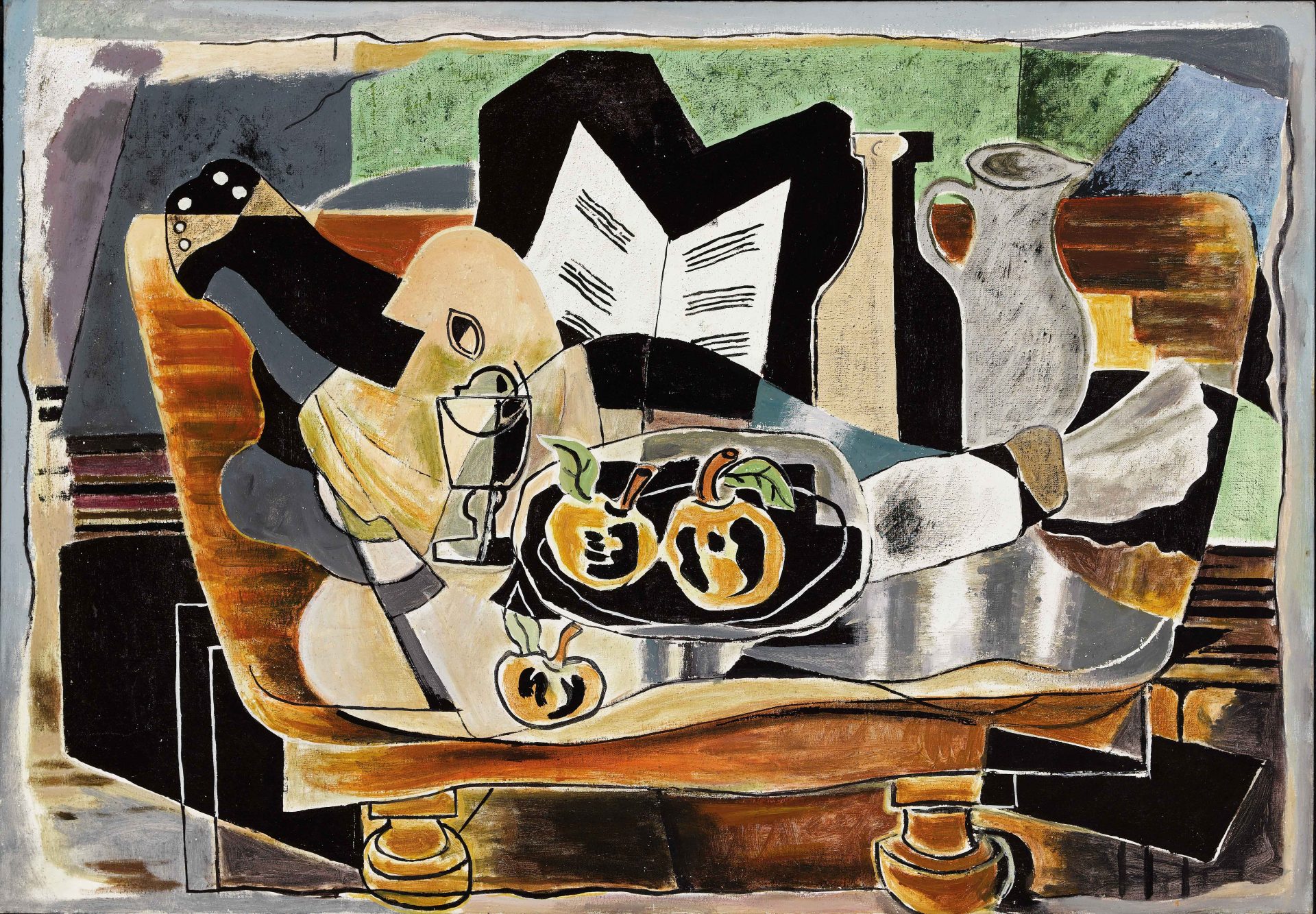 The history of forgery is a crime story, often motivated by quite particular psychological mechanisms and by greed and vanity, but it can also be a fascinating tale –and morbidly attractive – showing the motivations, techniques and strategies of art forgery.
If we read about or listen to forgers, we see that many of them willingly took the risk of crossing the red line to illegality out of spite, because at some point in their background they had been hurt by an alien art market and by a system of critics and experts whom, according to their own particular view, did not value their work or talent as much as they thought they deserved. It was this system of the art market and its specialists that they detested, full of  powerful, but ignorant and snobbish collectors, and arrogant and presumptuous critics  who they wanted to boycott and ridicule by confusing them and showing up their limitations.
Elmyr de Hory (1906-1976), the pseudonym used by Hoffmann Elemér, was an imaginative and devious painter and forger. Everything about his life seemed to be a performance, starting with his name and aristocratic airs from the pop era. Having failed as an artist in his own right in 1920s Paris he devoted himself to faking other artists such as Matisse, Chagall, Picasso and Modigliani. A large part of his success was due to the guile of his unscrupulous dealers Réal Lessard and Fernand Legros with whom he ended up having a stormy relationship. He lived in Ibiza for the last sixteen years of his life where he committed suicide in 1976 anxious about imminent extradition to France and the threat of imprisonment. His story inspired the biography written by Clifford Irving (The Story of Elmyr de Hory, the Greatest Art Forger of Our Time, 1969) and the Orson Welles film F for Fake (1973).
"I have never 'copied' any work of art: first because I'm not that stupid, and secondly because I'm not remotely interested in doing so. I allow myself to be inspired by a painter, I substitute him, enter into his spirit, 'possess' his style in the spiritual sense of the word, and by doing this I think in some way I prolong his art. After all it could possibly be a way of paying him homage. Who would dare say that 'interpretation' does not belong to the world of art?" […] "On a merely artistic level I would like to think of myself as an interpreter. In the same way one loves Bach through Oistrakh one could love Modigliani through me".
Elmyr de Hory in an interview with André Brincourt, published in Le Figaro (1973)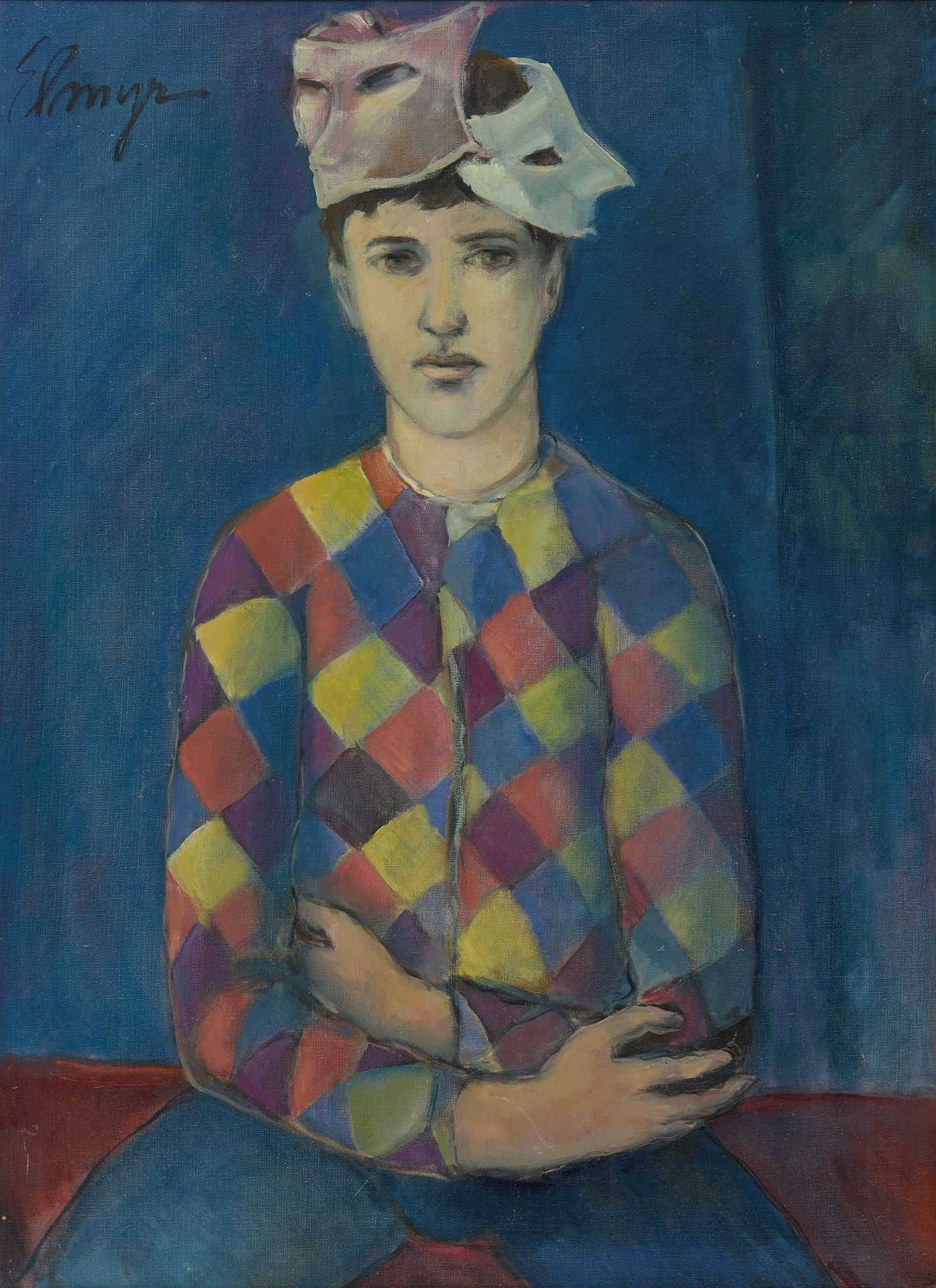 "If my paintings hang in a museum long enough, they will become real"
Elmyr de Hory in F for Fake by Orson Welles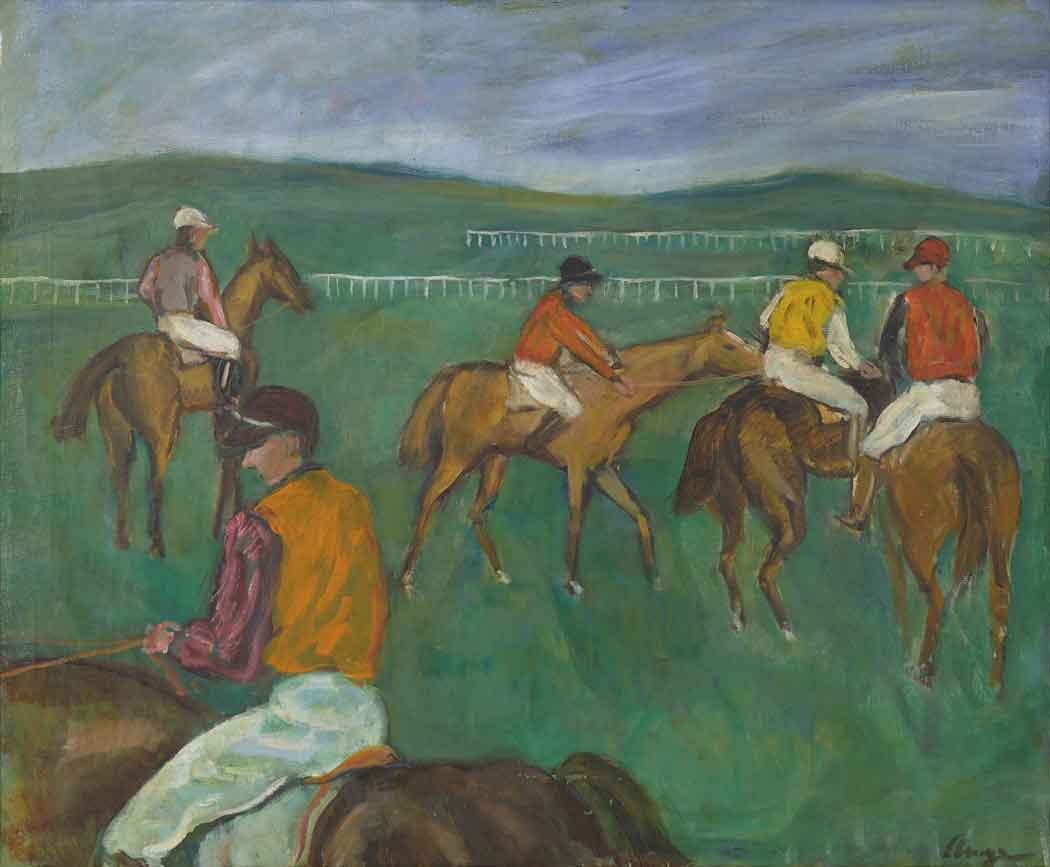 Another motive for forgery was the need to escape poverty, or mere greed, a desire to get rich, unleashed in realising when they came into contact with money-hungry dealers they could earn much more money devoting themselves to fraud than if they were dealing with their own creations or doing restorations.
"The dealer is not interested in art, he is basically interested in the profit he can make, judging artists by their market value; the art historian is not really interested in art either; he studies it, true, but he is more interested in promoting his own career and accumulating recognition and honours […]. In reality, art itself is neglected, nobody truly studies it with the honesty needed and although I can hardly claim I am a model of honesty I do feel in that respect that I am honest, I mean I do try and understand something of art".
Eric Hebborn in the BBC documentary Portrait of a Master Forger (1991)
Nobody could deny the technical and manual skills of Eric Hebborn (1934-1996), who trained in top art schools and demanding restoration workshops. He revealed his secrets in The Art Forger's Handbook (1997) and his autobiography Drawn to Trouble (1991). Apparently he produced about a thousand fake Old Masters, "dating" from the fourteenth to the twentieth century, which through trading got into such prestigious institutions as the British Museum or the Pierpont Morgan Library. He never experienced law courts or prison, though he came close to it when he was rounded up and under suspicion from the firm Colnaghi, the journalist Geraldine Norman and investigations by major art historians like Konrad Oberhuber. He was assassinated in a street in Trastevere in Rome but neither the motive nor the murderer has come to light.
Mockery was used to question the more idolatrous side of the cultural system. The most hilarious example is that of the fake Modigliani heads invented by three students and a painter with a bad reputation, to jeer at an initiative Livorno dreamed up in 1984 for the centenary of Amedeo Modigliani's birth there. The city's plan was to dredge the moat surrounding the old town to find out if the legend was true that as a young artist Modigliani had thrown his first sculptures into the water, upset by the poor reception they had received by the critics.
The students and the painter made three heads and threw them into the canal hoping they would be found and regarded as Modigliani's work. The heads were indeed found and much to their amazement not only did the art historians not realise they were fakes, but quite the opposite, they praised the heads as the promising early works of the great artist, until the three young people decided to confess. And they did it in quite an unusual way: they appeared live on the television news and made a fourth head in front of a notary, so there was no mistaking they were responsible.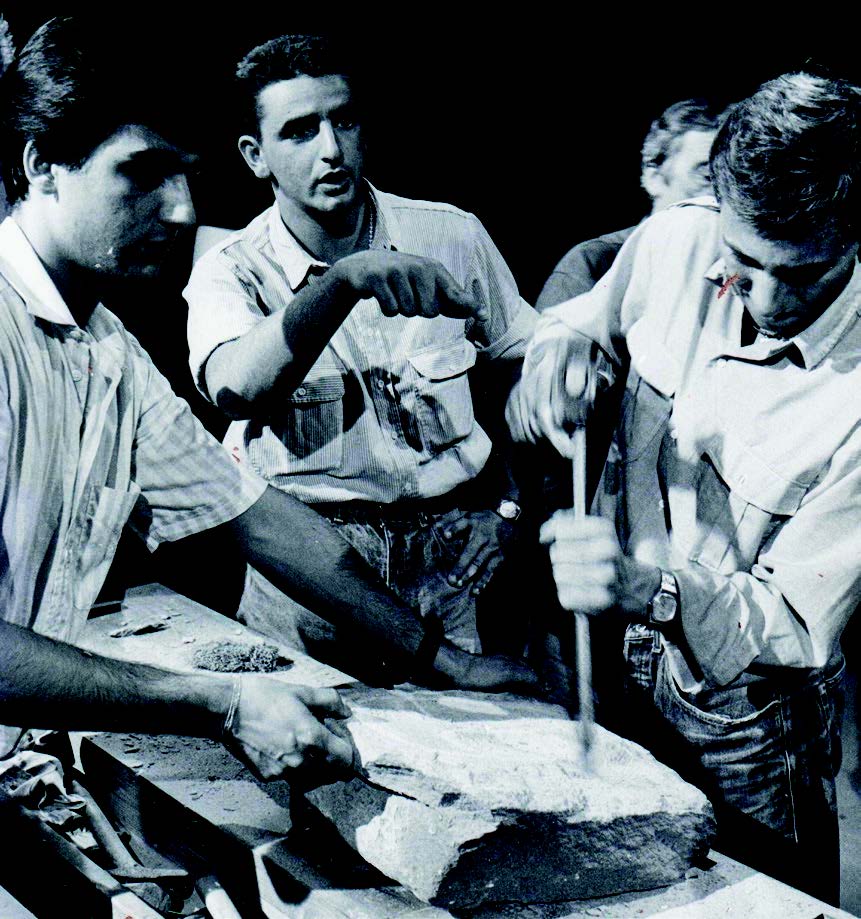 Psychological disorders have also led to some cases. Mark Landis (born in 1955), "the most famous art counterfeiter who never committed a crime", is a case in point. His activities were sparked off by his schizophrenic condition (according to some he is bipolar). Over the course of thirty years he managed to "contaminate" the collections of forty six museums in the United States. He never accepted payment for his "creations" as he would give them away, saying they were donations. It would seem that what motivated him was winning the acceptance of museums and enjoying the flattery of their gratitude and a moment of glory.
When the concept of forgery is used to create an original work designed to provoke reflections on art, originality and authorship we enter a world of an attractive intellectual game.
Here in Catalonia we have a very famous example of this with Max Aub's "Jusep Torres Campalans". This Cubist painter from Mollerussa —contemporary of Picasso, Modigliani and Mondrian — was invented by Aub who gave him his own biography, a body of work, interviews and even critical reviews and an exhibition project with a curator. All of it totally faked of course. The methodology behind this ironic artistic hoax is interesting because it deconstructs a mechanism based on the veracity of the author's existence and his original work in order to construct a false one that is real at the same time, as if it were a Cubist exercise in which all the facets of the (de-) construction are valid and necessary.
Forgers of art works create new artifacts –but ones which hardly deserve to be called "originals" – and aspire to introduce them into the market as legitimate works having given them a camouflage of authenticity based, among other methods, on the invention of a false history and on falsifying the authorship, usually by capturing the same style and calligraphy of an artist prized and sought-after in the market, and whose signature furthermore can be imitated.
Many forgers have based their success on their skills and being in command of a whole range of techniques learned in painting and restoration workshops and in a meticulous observation of old and contemporary masters housed in museums and collections; but also in a very sharp awareness of anticipating the specialists' analysis, that of the "fakebusters" as Thomas Hoving (1996) called the hunters of forgeries.
The origins of Icilio Federico Joni (1866-1946) are an example of how turning to fraud came from the need to escape from poverty, as he had been an orphan abandoned in the "ruota dei gettatelli" (Foundling wheel) at the hospital of Santa Maria della Scala in Siena.
We could say that he had a brilliant career: he became an expert forger of Medieval and Renaissance painting, capable of duping the most penetrating eye of the time, that of Lithuanian-born American connoisseur and historian Bernard Berenson, and he never suffered any kind of legal persecution. Perhaps that impunity inspired his cryptic, crude motto hidden on the back of some of his works, PAICAP: 'Per andare in culo al prossimo'.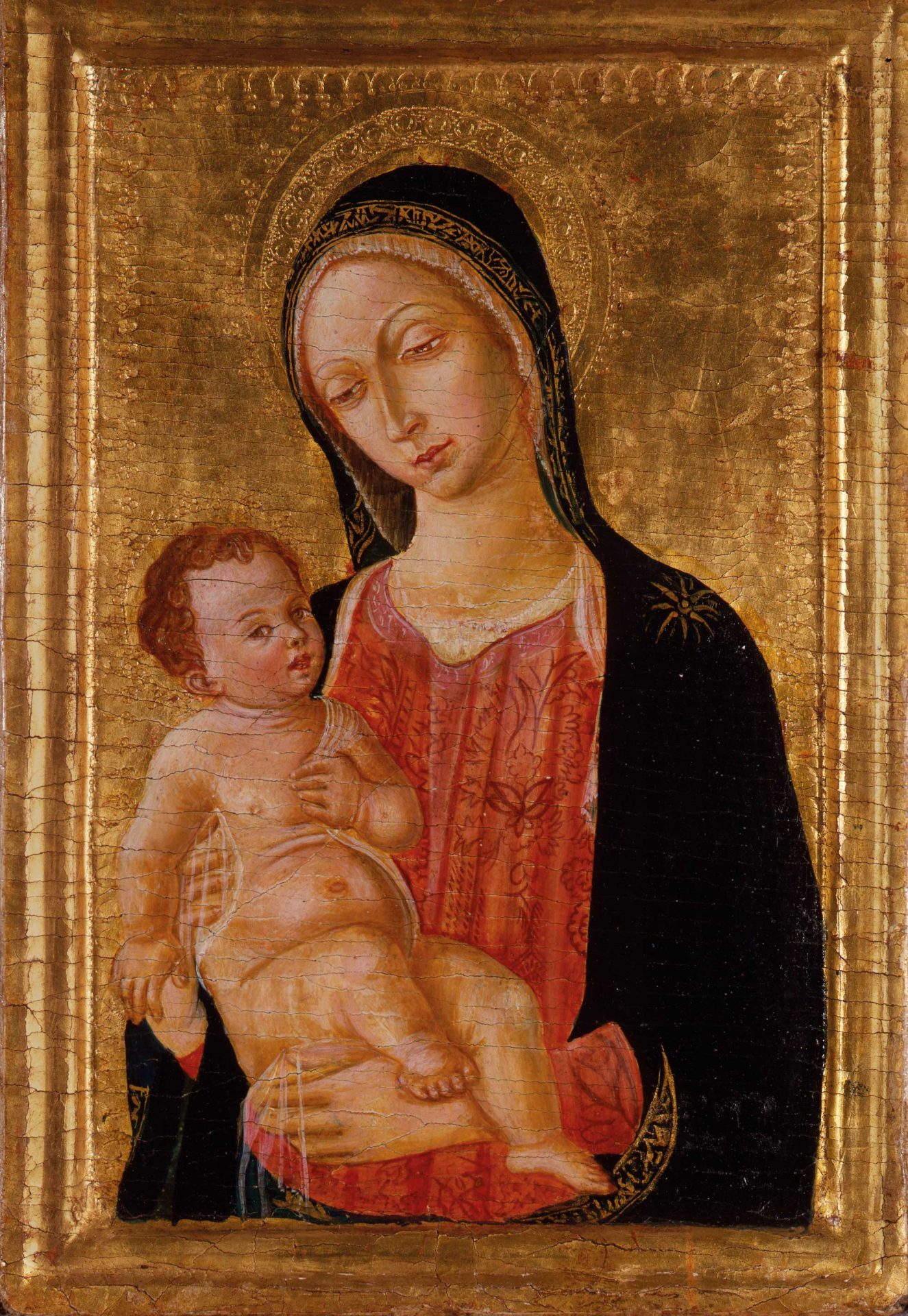 Acquired in Rome in 1913 (or perhaps a year earlier), probably thrown in with another acquisition.
Once it arrived in Montserrat, the abbot Marcet offered it to Señora Amatller, a collector of Gothic paintings, who showed interest in buying it though after consulting Monsignor Josep Gudiol finally rejected it. The abbot took new steps to sell it, this time to the collector J.Soler i Palet who was not interested either. The abbot returned it to the dealer in Rome, Giuseppe Gonnella, probably the forger. Father Ubach acting as intermediary wrote to the abbot telling him Gonnella had not come to get the painting so therefore it belonged to the monastery. In a visit to Montserrat, two highly regarded historians in Italian art assured them that the artist must have been Matteo di Giovanni, and for twenty years it stayed in the Museum of Montserrat under that name until Liliana Barroero, in a comprehensive study of the Italian paintings in Montserrat, (no. 48), after consulting Pico Cellini, confirmed it was a fake.
The model copied is the Madonna col bambino tra angeli e santi (62cm x 45cm), located in Sant'Eugenia, Porta Pispini in Siena. The forger must have taken a photograph of the work to Rome and simplified it by putting a gilt background, embellishing it and rolling over it to create cracks which, being uniformly horizontal, only go to confirm it is fake.
Notes supplied by Father Josep de C. Laplana
Alceo Dossena (1878-1937). The great scholar on forgery, Frank Arnau, called him "a human anachronism" for his ability to recreate the sculptures of the greatest Italian masters such as Giovanni Pisano, Mino da Fiesole and Donatello. He did them with such skill that many say his works have the same power as the originals. Surprisingly his career was untouched by the law. Although he was tried between 1928 and 1929 he was pardoned for lack of proof, being unable to show he was aware of what his dealers Alfredo Pallessi and Alfredo Fasoli did with a work which he maintained he had made as an original in Renaissance or Gothic style.
"I was born in our time, but with the spirit, taste and perception of times gone by"
Alceo Dossena quoted by Frank Arnau in The Art of the Fake (1961:1964)
Despite the fact all the dexterity and skill displayed brings years of prosperity and a comfortable life, and perhaps some sick personal satisfaction to see their own work hanging among the masterpieces of the great collections, in the end most forgers get discovered.
All who are involved in the business of unmasking fakes try to detect the forger's great enemies, that which one of them, Tom Keating, called "time bombs": the anachronisms. They could be pigments or bases from the wrong period, or incongruence in the language, the artistic codes or the iconographic stamps of each period or artist.
What is true though is that although the anachronism alarm bell is very useful for paintings of the late Middle Ages it is not so useful when it comes to contemporary work. In these cases one has to rely on police-like investigation work, often focused on identifying the origins of the doubtful or suspicious work, and in reconstructing the route it has taken through collections and galleries.
No fake stays unpunished for more than one generation, according to those in the know.
The most notorious work of Lothar Malskat (1913-1988) and Dietrich Fey (1912-2004) was the fake frescoes in Schleswig cathedral (1937) and in the Marienkirche in Lübeck. After having received huge praise from art historians close to the German National Socialist party, they began to come under suspicion, for among other inconsistencies, because a turkey in the ornamental border seemed out of place, a fowl that was not known in medieval Europe (they did not reach the Old Continent until the sixteenth century). But what is really interesting is that before admitting that these birds proved it was fake, the Nazi cultural system justified their presence by claiming there had been a discovery of America that was not by Columbus, but by Vikings, dating back to the thirteenth century. In the end the fraud was only revealed when Malskat himself, in a fit of megalomania and jealousy that Fey had claimed the public praise for the interventions done by both of them, went to the police to confess the whole invention, demanding "recognition" for his role in it.
Some forgers, once found out and accused of fraud and swindling, served prison sentences. These were relatively light, maybe because their crimes were bloodless and not based on damaging any kind of cultural heritage, but rather "inventing" new objects, albeit illicit and leading to serious financial issues.
When released they sometimes reinvent themselves, changing, as one of them said, "their business model" – often using the fame acquired during their illegal years – devoting themselves to creating their own work or to inventing "genuine forgeries", fakes recognised as such and sold through their websites and given certificates of authentication. A few have written autobiographies, inspired literary biographies, documentaries, film productions or plays, and have also starred in television programmes.
Very few have had a sad or even tragic ending, except as it happens, the three best known: Van Meegeren died a few weeks after the court sentenced him to a year in prison (it was known that he was a morphine addict and an alcoholic); Elmyr de Hory committed suicide as he faced possible imprisonment having discovered the Spanish state was about to extradite him to France; Eric Hebborn was assassinated with a hammer in a small square in Trastevere in Rome. The murderer was never identified.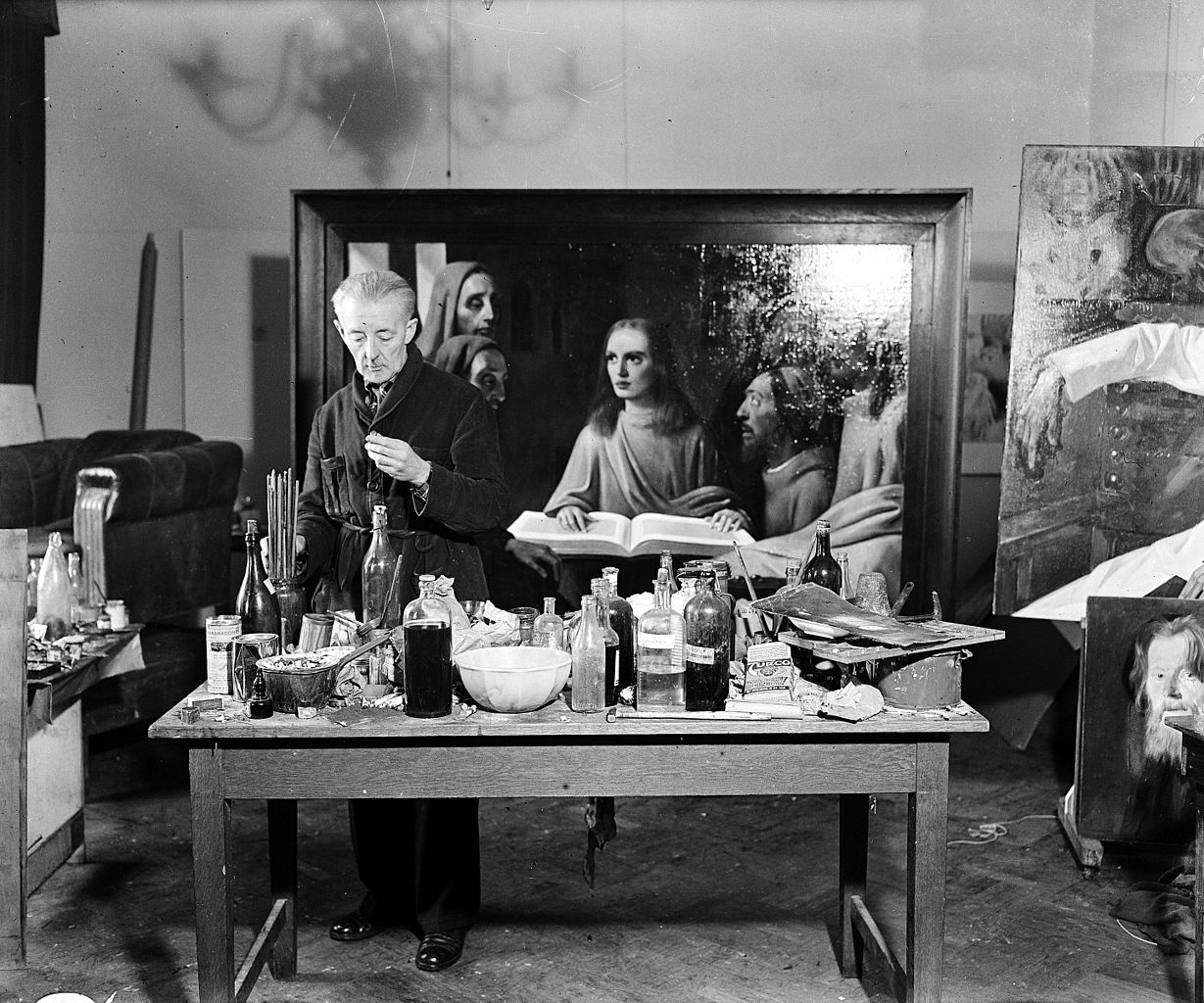 Han van Meegeren (1889-1947) is a historic figure in the world of forgery for his fraudulent recreations of Vermeer works, which were even acquired by major institutions like the Museum Boijmans Van Beuningen or the Rijksmuseum; however his most famous client, without any doubt, was the sinister Nazi Reichsmarschall Hermann Goering, who bought his "Christ with the Adulteress" in 1942.
After the war, he was accused of having given the Nazis valuable works that were Dutch national treasures, which would incur the death penalty. That forced him to admit that far from being originals all these paintings were his fakes which meant he faced an infinitely lighter charge: a prison sentence. He "managed" this though by painting one of his counterfeits for the court, a "new Vermeer", now a "Jesus among the doctors", with the materials confiscated from his studio and explaining step by step the technique used. He died a few weeks after the court sentenced him to a year in prison.
"Dragged down by the psychological effects of my disillusion in not being recognised by the artists and critics of my country, one fateful day in 1936 I determined to show the world my worth as a painter and decided to create a seventeenth century masterpiece".
Han van Meegeren during his trial (1945).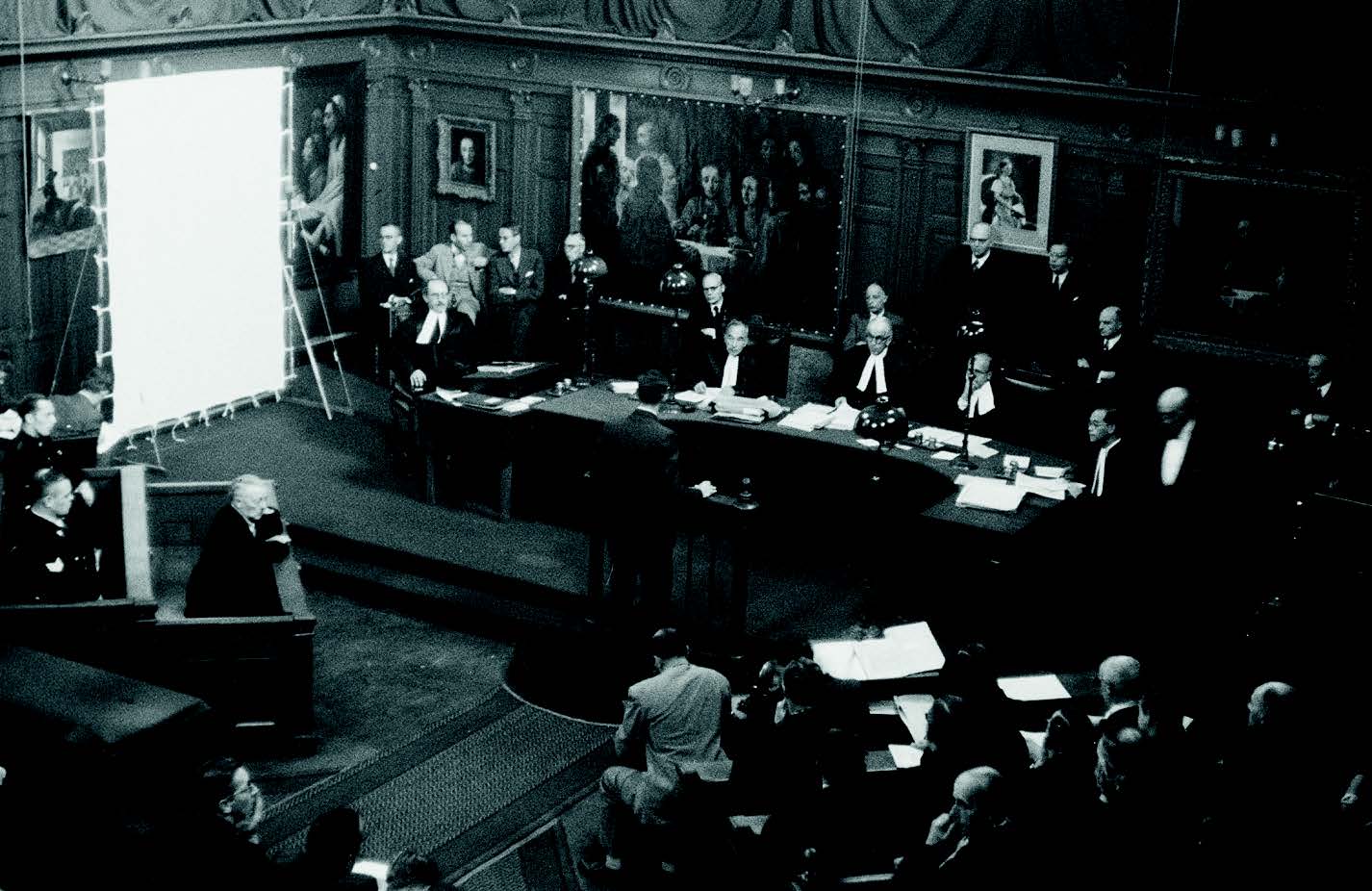 "I did not hand over a single Vermeer to the Germans, but instead a Van Meegeren. This is a Vermeer that I forged!"
Han van Meegeren during his trial (1945).
John Myatt (1945).  According to Scotland Yard, the fraudulent company he set up with John Drewe (born in 1948) was "one of the most damaging art hoaxes of the 20th century". He did the paintings and Drewe invented a prestigious history for them, infiltrating false documentation into the archives of very important institutions. Once they were found out, Myatt spent four months in prison (out of a one year sentence) and his accomplice, Drewe, two months (out of a six-month sentence). Today Myatt has a website in which he does not even question his trajectory in "the biggest art fraud of the 20th century", he has starred in the series Fame in the Frame (Sky Arts) and he takes part as an expert in the programme Fake or Fortune? (BBC).
Fake works in Catalan museums
Here in Catalonia the underworld of forgery is little known so it is difficult to delineate its boundaries, measure its intensity or distinguish the most outstanding and decisive episodes in our cultural heritage. It is difficult to find out about the main participants in depth and enumerate the victims.
Nevertheless today we do have a list of our "very own" forgers and illicit practices which show how this phenomenon has made its mark since the early twentieth century (when collectors began to be wary of it and the critic Feliu Elias observed it and wrote about it in the magazine Mirador)  revealing the fraudulent activities of the brothers Sebastià and Carles Junyer Vidal which exemplify three of the most common forgery methods: the alteration or addition of a signature, creating "original" works imitating the style of well-known artists and fraudulent copying with hyper-restoration ("restorgery" – a cross between restoration and forgery).
"Collections as important as those of Lázaro Galdeano, Emili Cabot and Mateu dels Ferros, are not without their forgeries and the latter was particularly a victim of these charlatans. […] Even in the days of Fortuny, his Catalan admirers were faking his works and adding the signature, and to this day there are workshops in Barcelona churning out Nonells, Vayredes, Martí-Alsines and any others in demand"
Joan Sacs (Feliu Elias), in Mirador, 20 May, 1930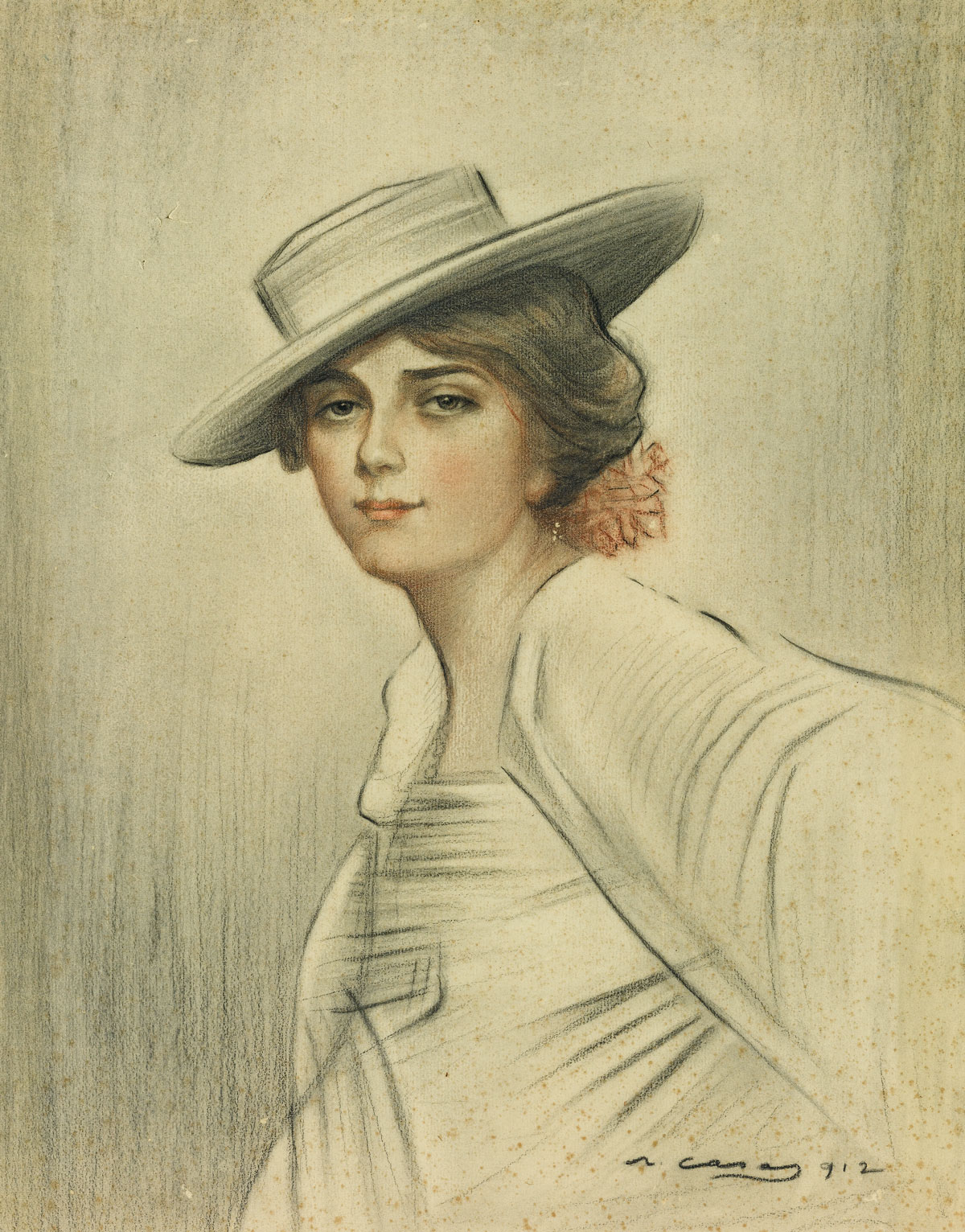 "Ramon Casas was not alone in suffering forgeries posthumously. We all know that the paintings and drawings of Nonell, Picasso, Vayreda, Martí i Alsina, and even Benet Mercadé have been forged for years, without even mentioning the fake Fortunys. –  It seems that lately our market of modern paintings has been infiltrated with works falsely signed under the name of Santiago Rossinyol…! […]"
Joan Sacs (Feliu Elias) in: "Forgery in modern Catalan painting". Mirador, 221, 27 April, 1933
This whole episode was quite scandalous and had the feel of a crime thriller to it. According to the court order in 1982, the operation was carried out by two brothers, Llorenç and Ferran Monjo Carrera, antique dealers and "restorers" conspiring with the Solsona Museum's director. In the early seventies, the Museum's director handed over some pieces from its collection to them –six panels and three carvings- to supposedly be restored. However the brothers' real intention was different: to get them copied, return the copies to the Museum, sell the originals and share the profits between them. The alarm sounded when the genuine works were spotted in an antiques market. In 1985 the originals returned to Solsona Museum.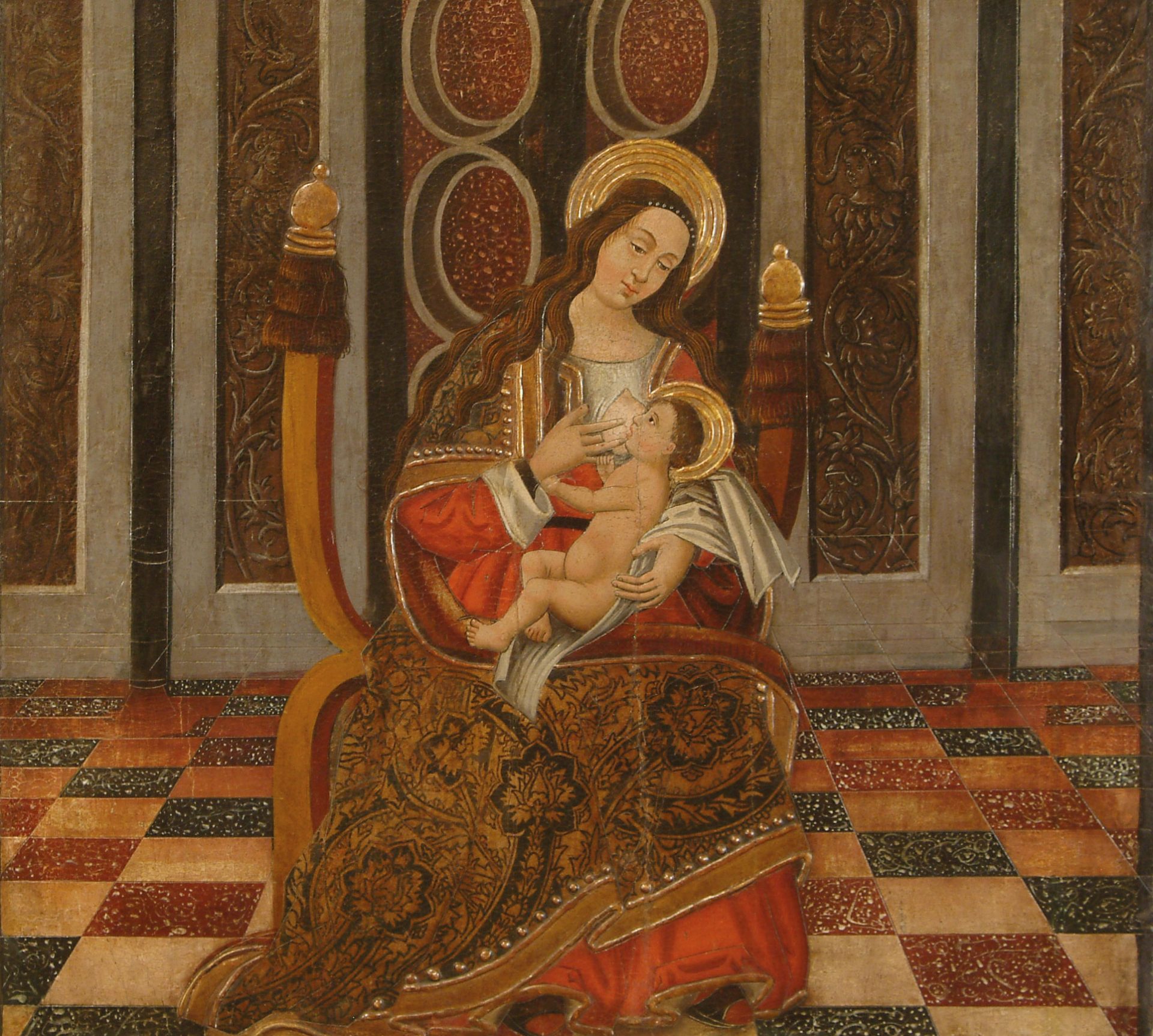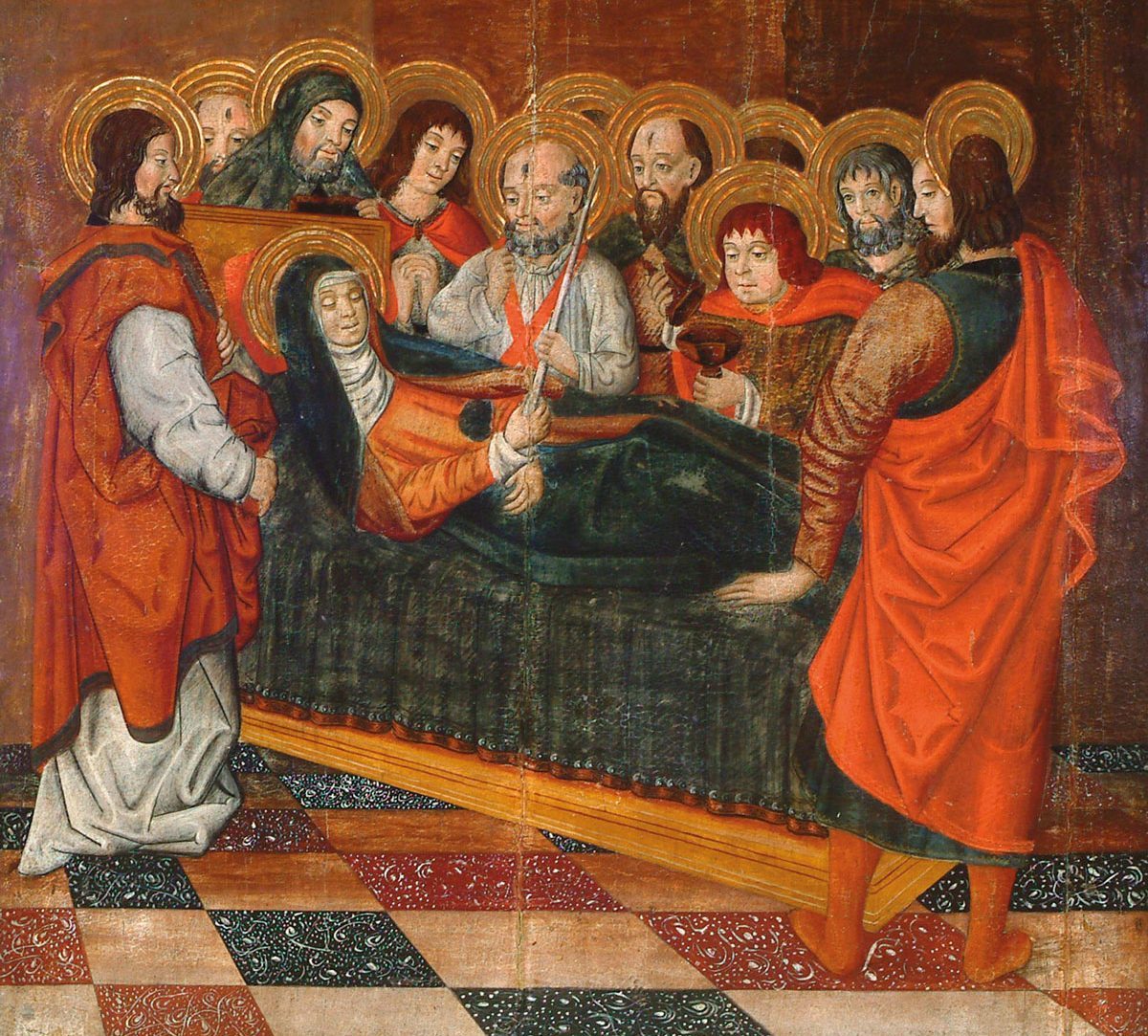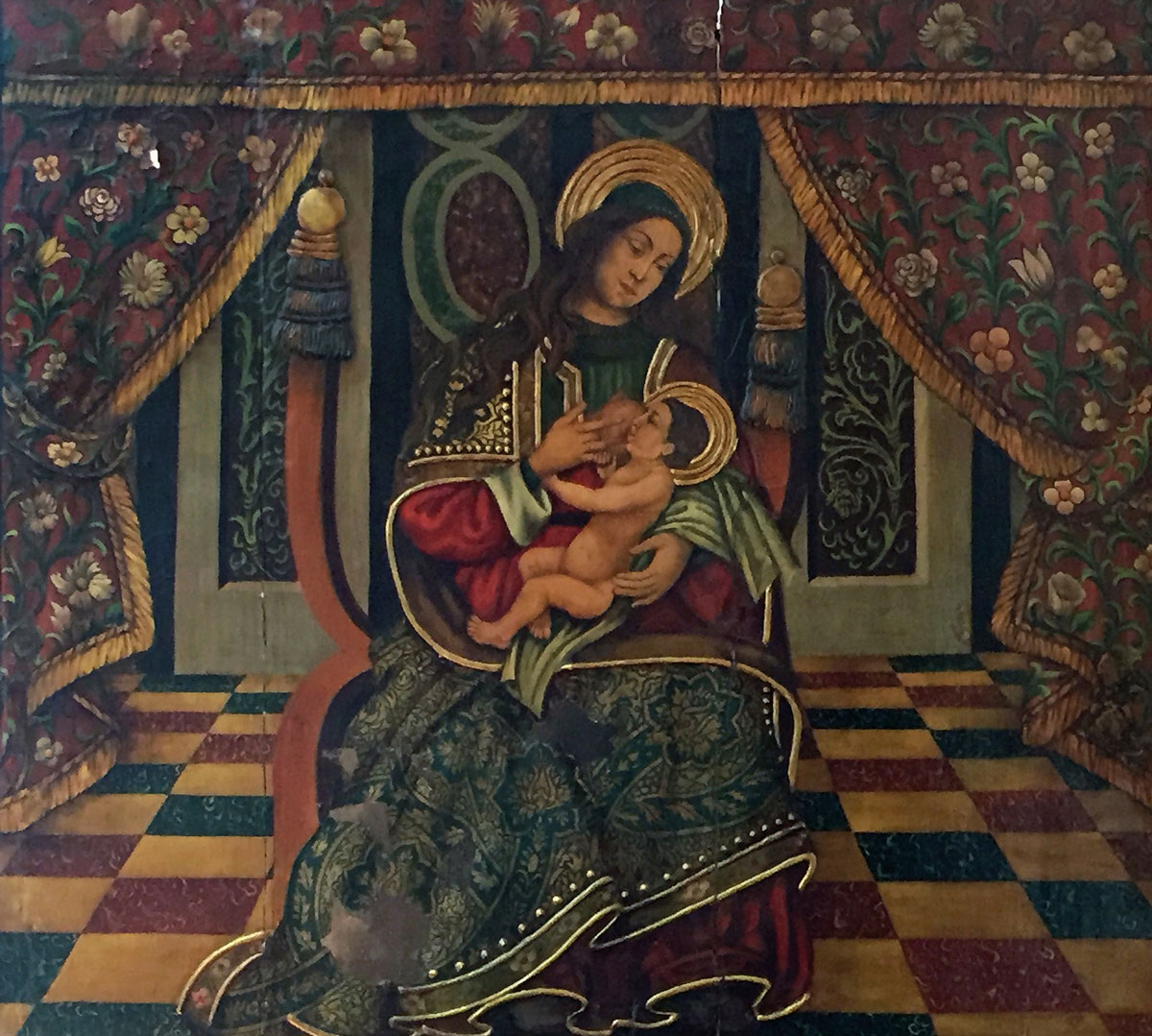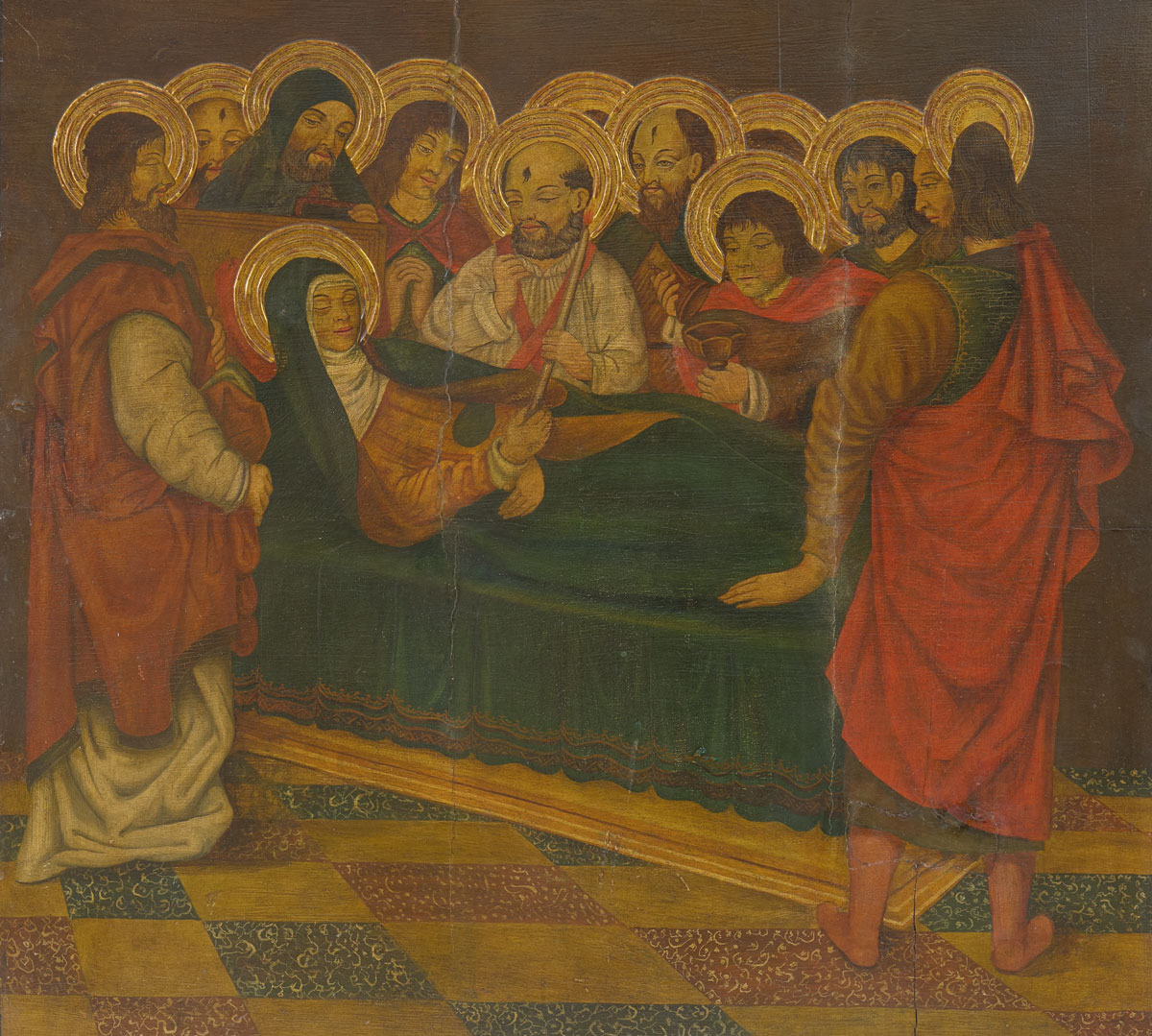 The Girona Museu d'Art holds the largest, most significant collection of the work of Pere Mates (c.1490-1558), born in Sant Feliu de Guixols and one of the most representative artists of the Catalan Renaissance. When an opportunity arose in 2010 to acquire three pieces, panels on wood, attributed to the painter, there was no doubt it was interesting. The paintings matched the documented references and well-known published photographs, although the works showed signs of having undergone excessive restoration.
Six years later in October 2016 another six panels attributed to the painter came up for auction. Surprisingly two of them were identical to the ones bought a few years earlier. The coincidence suggested the false identity of the first ones and the possibility that they were the result of some shady, fraudulent activity. The "Pere Mates Case" had broken, the press spread the word and research and analytical work began to ascertain if these were genuine or fake works.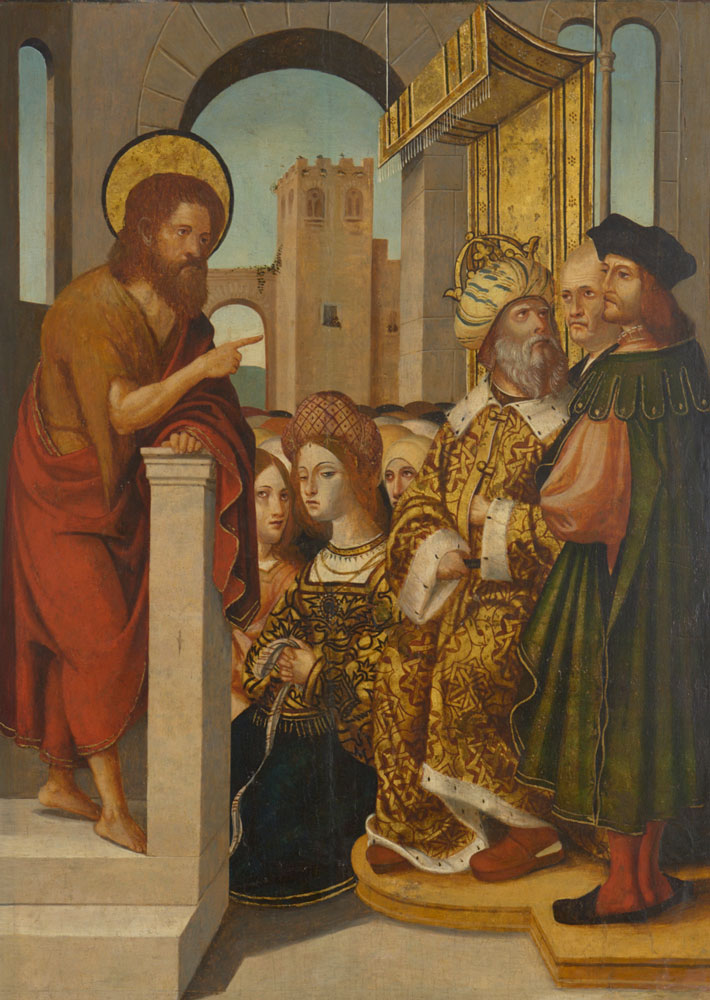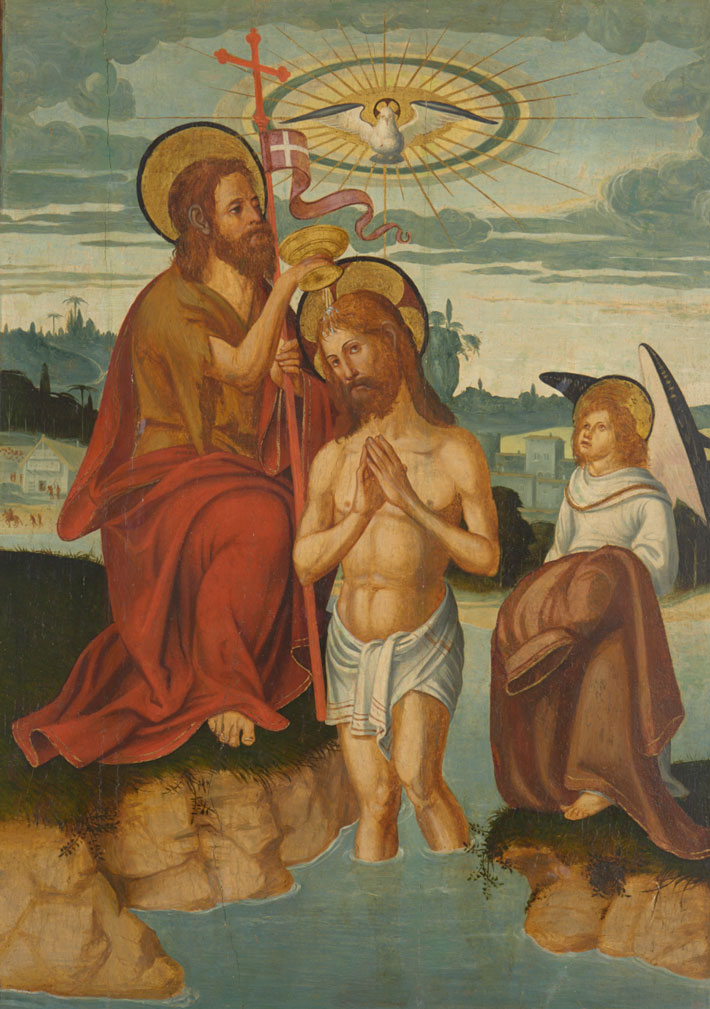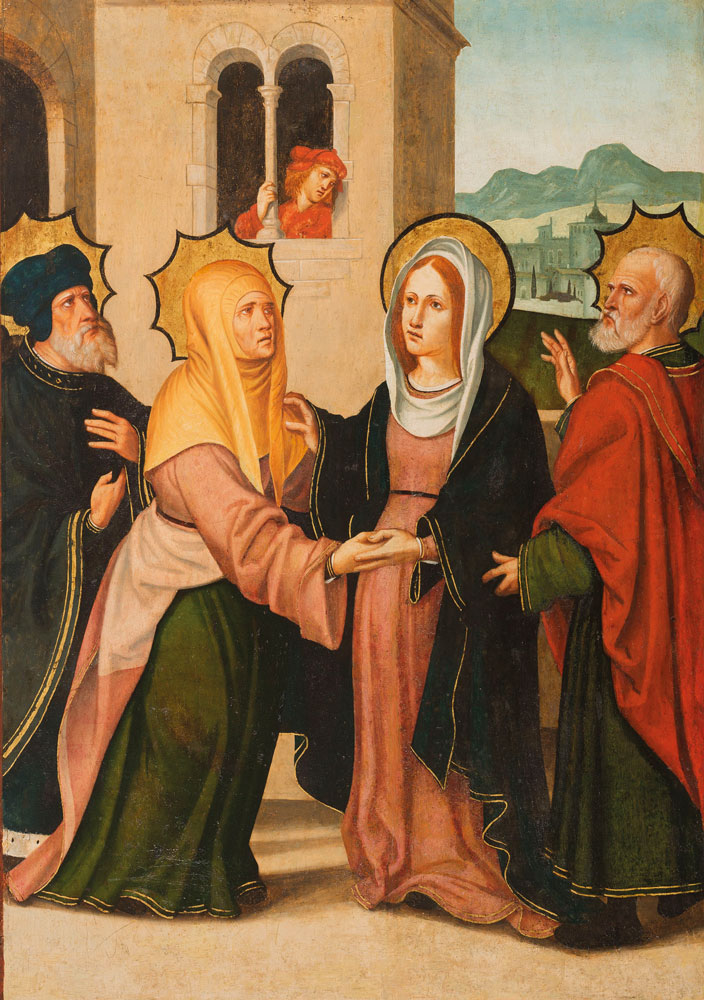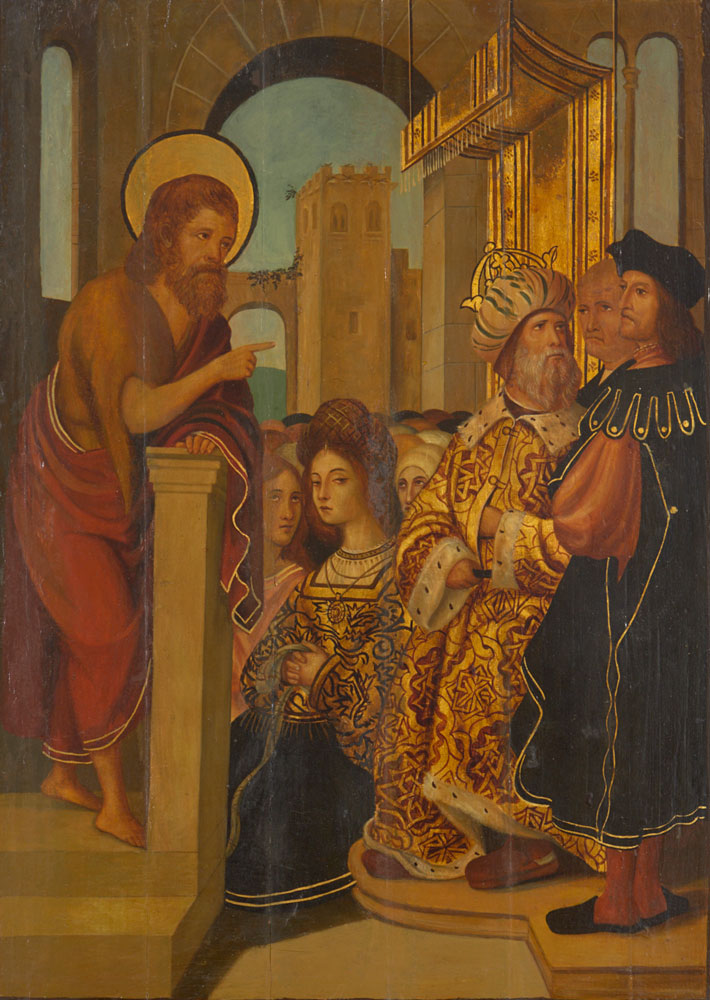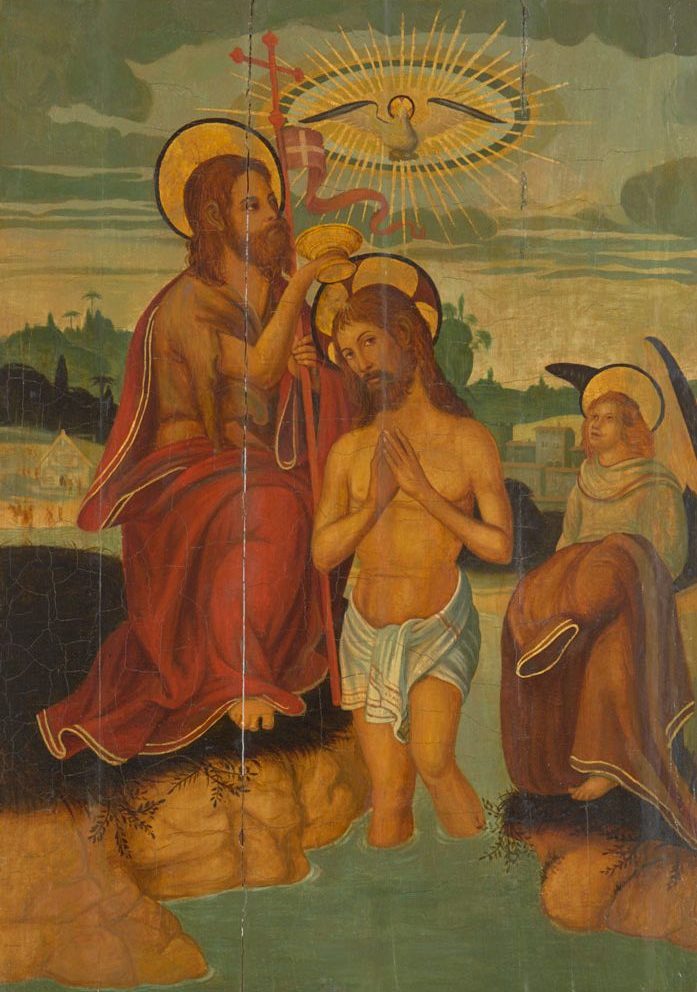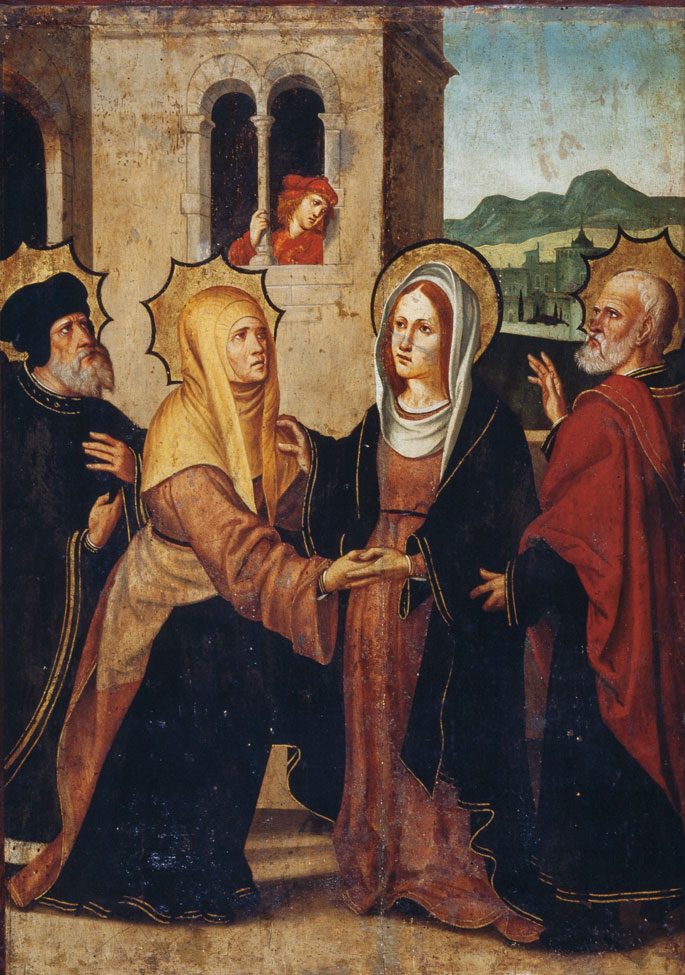 Investigating the "Pere Mates Case"
When three panels from the Saint John the Baptist altarpiece came up for auction in May 2010 they were thought to be original Pere Mates panels. The composition, details in the scenes, drawing of the figures and especially the technical mastery of some of the faces, coincided totally with the black and white photographs published up until then. The few small differences noted were put down to retouching added much later in a restoration process.
When new panels from the same altarpiece appeared on the market in 2016 and the fact two were identical to those in the Museu d'Art, suspicions arose that these could be fakes. A series of technical and analytical studies began immediately to examine the true nature of the works so as to unmask the fraud as far as possible.
Historic and artistic study
The first step in any study on a work of art is to look into its history, something that is not always known and at times difficult to decipher. In most cases one has to start the research process in archives, libraries and museums. Getting to the bottom of documentation sources, reading research and comparative analyses with other works by the artist or that period can help in confirming an attribution, discovering who the patron might have been, compile a possible chronology or, with luck, determine the exact date the work was done. In a word it is all about placing the work in an artist's trajectory or in the more general context of art history and tracking its later history.
Regarding the Pere Mates panels, research to date has enabled us to plot a partial itinerary through their old and recent history.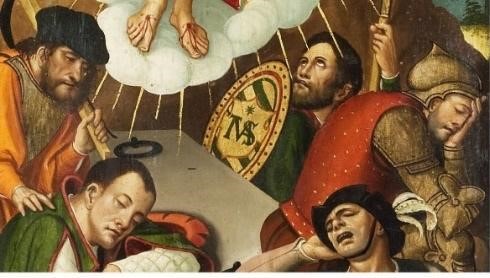 Artistic technique: painting on wood in the sixteenth century
Another very relevant point when studying a work of art is the recognition of the artistic technique used to create it: identifying the kind of materials, the way they were used or above all the kind of brushwork can help to place a work in a specific time frame and even, fine-tuning the analysis, attribute it to a particular artist. On the other hand knowledge of artistic technique becomes essential to evaluate the state of conservation of the work and to begin the process of scientific analysis.
In the case of the Pere Mates panels, the technique had to be in line with what was usually done in the sixteenth century as regards painting, tempera or oils on wood.
A careful look can help to recognize with the naked eye the technique and morphology of a work of art and to detect inconsistencies, repaints or additions. This observation, from both the front and the back, prior to any scientific analysis, allows one to make a first impression of the work, to open questions and to raise the analytical techniques and the areas from which to extract samples to solve the questions raised. 
Photographic and radiographic analysis
Photographic techniques are essential for examining a work and are the starting point for applying other methods that will complete the material study. The work is photographed under visible radiation (with light applied in different ways and in more or less detail) and invisible radiation (with ultraviolet and infrared light). The result obtained from each of the images contributes new data to the analysis process.
Photography with oblique light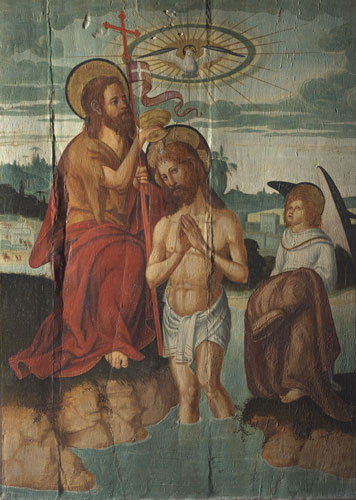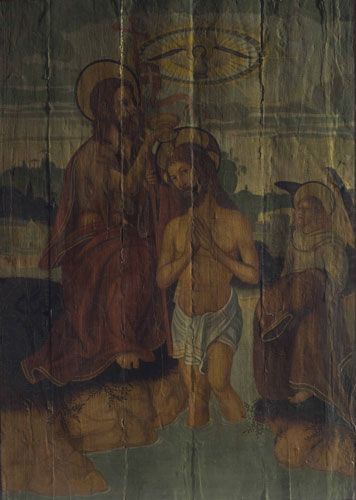 Photography with ultraviolet light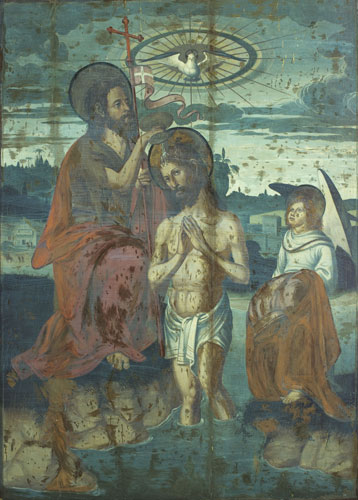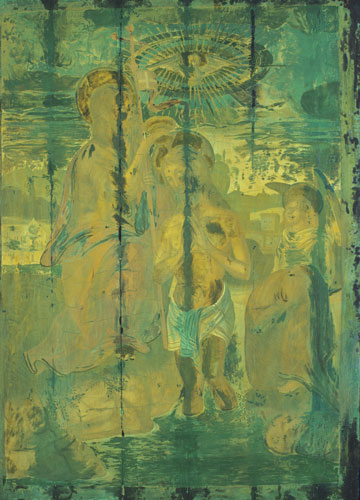 Photography with digital infrared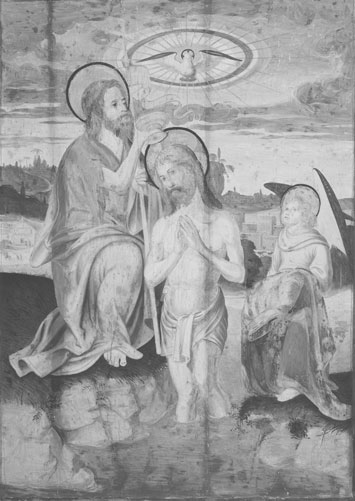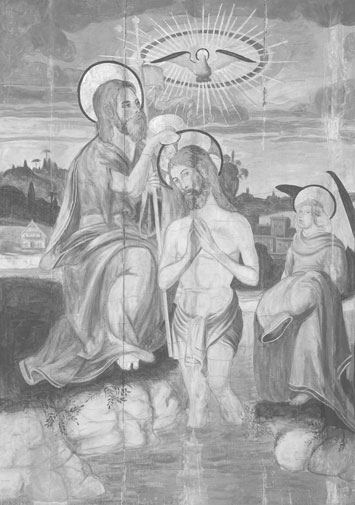 The Pere Mates case: an open case
After the different studies and analyzes to which all the works attributed to Pere Mates were submitted, it was possible to conclude:
That the paintings acquired in 2016 had been made in the 16th century, since they displayed materials in use during that period, such as white lead or azurite blue, and their morphology coincided with that of altarpieces and paintings of that time , and
That the three altarpieces bought in 2010 were copies – almost traces – of the originals, produced from the first quarter of the 20th century, since the support was made of pine and irregularly cut, the preparation being in the barium sulfate composition (compound used from the nineteenth century) and pigments were from the eighteenth century (Prussian blue was discovered in 1705 and titanium white was marketed in 1921).
The Pere Mates case was settled, but only in part. There are still many questions to be answered: who and with what intention did the false works, were made with a will or a deception ?, only these three tables were copied or the whole altarpiece? New clues will need to be followed in a case we keep open.
Does the perfect fake exist? Can fake works have some positive worth beyond being the proof of great daring and some degree of technical ability? Could they even get to be "beauties" and provoke an aesthetic experience?
We are inclined to say no to these questions as we consider authenticity is a fundamental element in a work of art and because we believe that an intimate link is established between the person and the work they are contemplating, an enthusiastic and trusting relationship based on the veracity of the work and on the sincerity and moral integrity of the artist, a relationship which the forger makes impossible corrupting and perverting these principles. Perhaps it is because we believe in the changing but indestructible aura of a work of art.
The exhibition is complemented by the publication of a booklet with texts in Catalan and English.
Introduction
Carme Clusellas
Director of the Girona Art Museum
Genuine fakes: the art of deception
Joan Bosch i Francesc Miralpeix
University of Girona
Catalan Institute of Cultural Heritage Research
The "Pere Mates case": a chronicle of discovery
Carme Clusellas
Director of the Girona Art Museum
A technical and scientific study
Josep Paret
Centre far the Restoration of Tangible Heritage in Catalonia
Conservator of cultural heritage and coordinator of the department of painting and sculpture on wood